3 bedroom townhouse (1,147 sq ft)
Price: Approximately $1400/square foot
Community: Our Urban Village
Address: 5811 Main Street, Vancouver, British Columbia
Last Updated: September 20, 2021
Our last remaining 3BRM townhouse provides the feel of a spacious home in a dynamic urban setting. This unit is 1,147 sq ft over 2 levels. The outdoor patio and entrance are at the quiet end of the property facing tree-lined Ontario Place. Downstairs are the 3 bedrooms, a walk-in closet from the master bedroom, a second bathroom as well as an in-suite washer/dryer. This lower level will be lovely and cool during warm days of summer while also receiving natural light from the large lightwells in each room. The upper floor includes a full open-concept kitchen (with dishwasher), living area and a bathroom. It also includes a Juliet balcony facing into the courtyard, which will be part of the heart of the social life of the community.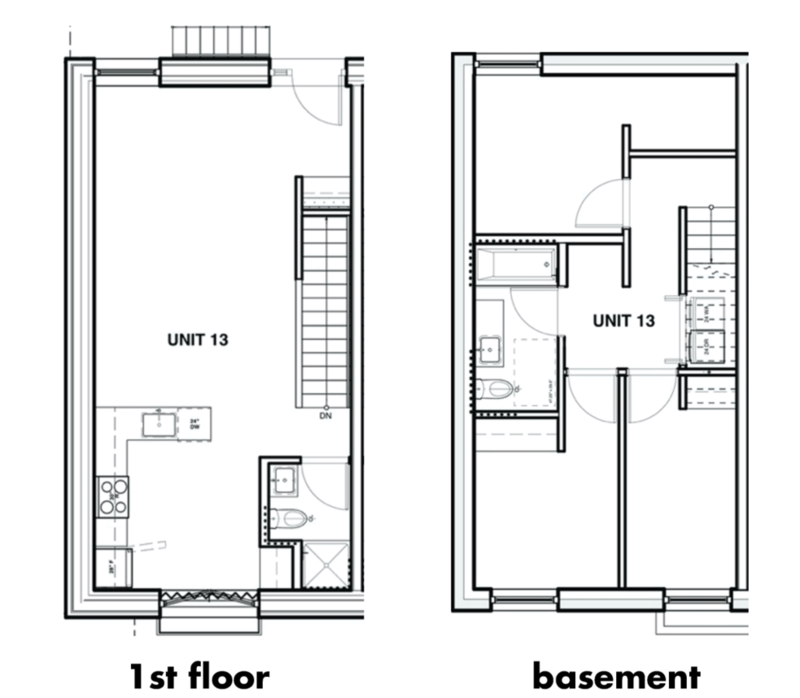 This home is perfect for any family no matter the spectrum of ages, from infants to those preparing to enter university.
Our property is centrally located and is close to many facilities, including:  Hillcrest Community Centre, Hillcrest and Sunset Vancouver Public Library locations, Queen Elizabeth Park and amenities, Vancouver Rackets Club, Langara College, Langara YMCA, Langara Public Golf Course, and Sunset Community Centre to name a few.  There are also numerous schools in the area.
We are close to the 41st Avenue rapid bus line with convenient service to UBC. And we are also close walking distance to the Oakridge Canada Line station and amenities.
* Note that all unit sizes are rounded approximations and are subject to change.
** Final prices are not yet available (as of Sept 2021) but our developer, Tomo Spaces, is targeting market rate for Vancouver new construction in our area. Want to know more about prices and units? Connect with us directly.